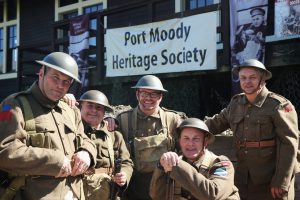 (From Left to Right: John Goheen, Cary Price, Markus Fahrner, Alan Fox and Jim Millar).
The Port Moody Heritage Society is lucky to have these guys as volunteers.
We had an amazing group of volunteers help build the Trench and put in a tremendous amount of work and time. The Trench Squad  was made up of  Guy Black, Sonny Son, Jim Millar, John Goheen , Markus Fahrner, Alan Fox and Cary Price. We had Cadet Groups help during the building of the Trench and are thankful for everyone's hard work. There has been a lot happening since the Trench was built
We have a  group of dedicated volunteers ( John Goheen, Markus Fahrner, Alan Fox and Cary Price) who helped with the education part of the exhibit. They worked with staff to create a Life in the Trenches school program, created a Great War Talk series ( given monthly )and have done a Re-Enactment Photo Project. These guys come in to help with school programs, give talks on a monthly bases, are part of all trench related events and are very dedicated to educating the community. Last night we gave a talk at the Burnaby Historical Society about Canadians in the Great War and tonight we are having a Candlelight Vigil of Remembrance at 8pm at the Port Moody Station Museum. We invite you all to join us.
Pictures following show what kinds of things are volunteers have been working on.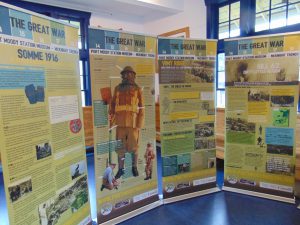 Markus Fahrner designed our banners for our Education Program and Great War Talks. John Goheen provided all the information.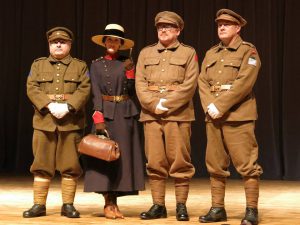 Cary Price, Markus Fahrner and Alan Fox were in our Fashion Show showing what soldiers wore.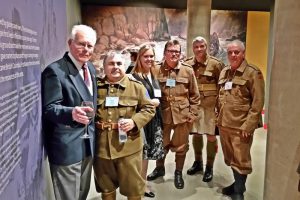 Jim happer, Cary Price, Brianne Egeto, Markus Fahrnerm John Goheen and Jim Millar at an awards banquet.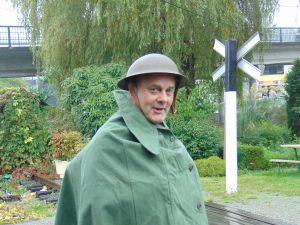 Alan Fox dressed  to give tours after one of our Great War Talks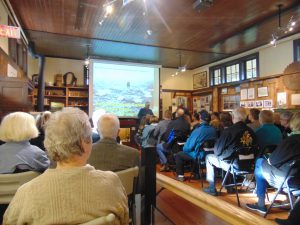 John speaking at one of our Great War Talks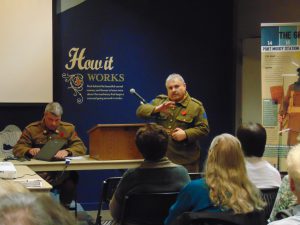 Cary Price talking about uniforms during the talk at the Burnaby Historical Society.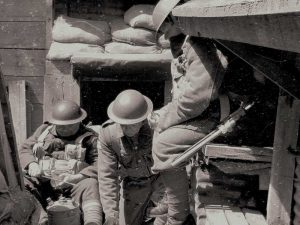 One of the Reenactment photos the guys created.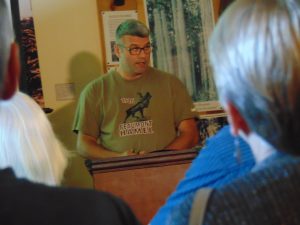 John Goheen giving his talk during our Beaumont Hamel Great War Talk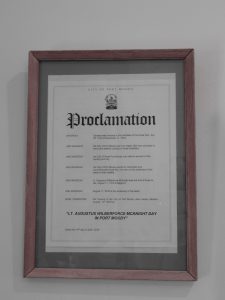 A Proclamation for 9 Port Moody Soldiers went to the Great War and died serving.
Executive Director Jim Millar has been able to get the City to do a Proclamation for the 100th Anniversary of each of the 9 soldiers for the day that they died. All nine soldiers bravely fought and lost their lives during the Great War and we want to remember their sacrifice.